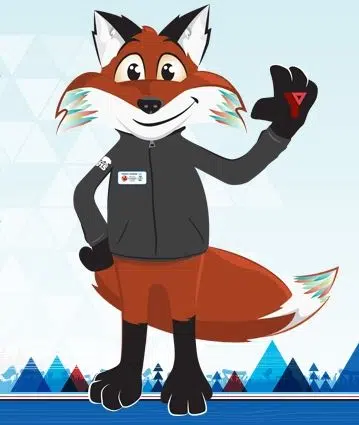 And here's the official mascot for the 2015 Canada Winter Games!
His names is Nanguz (here's how to pronounce his name… LINK).
10 year-old Kaitlyn Muir submitted the winning mascot idea!
Nanguz's name comes from the Dakelh / Carrier word for fox.
Nanguz's Northern Story

Nanguz is a friendly red fox, who has lived in northern BC all of his life. He lives in a den on the edge of the forest near the Fraser River. Nanguz's name comes from the Dakelh / Carrier word for fox. He loves winter and feels lucky to be living where there are lots of beautiful snow-capped mountains for skiing and snowboarding, huge open fields to cross country ski on and big ponds and lakes to skate, curl and play hockey on.

A multi-sport athlete, Nanguz plays all of the 2015 Canada Winter Games 19 official sports. He is quick, smart and agile, just like the athletes from across Canada who will compete in the 25th edition of the Canada Winter Games in Prince George from Feb. 13-Mar. 1, 2015.

Nanguz is uniquely northern. His favourite colours are also the three brand colours for the 2015 Canada Winter Games: red like his fur coat, blue like the northern lights in the night sky and green just like the evergreen trees in the forest near his home. All of these colours can be found on the tip of his tail and the fur around his face. His soft, thick fur keeps him warm in chilly northern BC winters. And he wears his 2015 Games warm-up fleece jacket when he's not participating in the many sports he loves.

The YMCA of Northern BC logo can be found on Nanguz's paw. Nanguz embodies the spirit of fun, fair play and integrity, and loves cheering on all athletes who are doing their best. He'll give you a "Y High-five" when he sees you trying your hardest and helping others achieve their goals.
What do think? Are you excited about the games?